What's Up in Italy Today?
Romano Prodi in Wales
There have been several issues of interest happening here in Italy over the past week. The week started with an election. It was actually a referendum for the public to elect the leader of the centre-left coalition of the many left-wing, liberal and eco-sensitive political groupings and parties in order to fight – and most likely win at this moment in time - the coming elections which, Berlusconi has just announced, will be held next April 9th.


The whole election was a very "Italian" business, of course, taking a couple of hours – pleasant chatty hours it must be said – out of my Sunday. I had a voting tent just at the bottom of the street in which I live – about 50 metres at most – although I was actually "assigned" to a voting tent about a kilometre away from here. Still, it was a nice day and the walk was pleasant. It was very noticeable that there very few young people getting involved though, with most people voting seeming to be in their middle and later years.

The actual turn-out for the vote was amazingly high with an estimated 4 million making their voice heard in what is, after all, only a party leadership poll. It was the higher than expected turn-out which caused the minor hiccups with the polling systems, with only around 1 million people originally expected to turn out to vote. The 400% increase in numbers took everyone a little by surprise – although, I remember the chaos during the last general election, when the queues stretched back so far that the polls had to be kept open longer so that the queuing voters could cast their vote.
The votes gave Romano Prodi a clear win, with around 75% of the votes cast in his favour. Prodi has managed to keep himself clear of party politics so far, belonging to no political party at all currently. This has, it could be argued, given him a far better ability to bind together the various political groups under a single banner, much as Berlusconi has managed to juggle the right-wing parties under his own apolitical party banner. Of course, if Berlusconi has his way, Prodi will soon be forced to either join one of the existing parties or else form a party of his own under which to tackle Berlusconi – as Berlusconi himself did some 10 years ago when he was trying to distance himself from the tainted political arena of the time, after the "Clean Hands" issues that affected Italian politics so badly back then.


It must all be a bit of a concern to our Silvio, seeing as how he has already lost one general election to Romano Prodi back in 1996.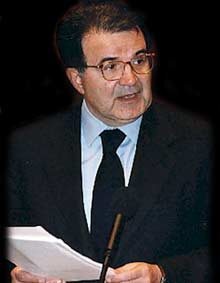 Romano Prodi in more serious mood
Other than that, we have heard from our great leader that he now considers debate about the electoral law changes, ".

.beyond the time limit, now that the measure has been passed by the House

". That's that one sorted out then, isn't it.


The new (for the third time) Finance Minister, Giulio Tremonti has made several utterances, saying that Italy's public accounts are not in total chaos, which is apparently proven by the unexpected success of the recent issue of thirty-year Italian State bonds. "

At the beginning of this week, we issued bonds due to expire in thirty years, which can be a reliable marker of long-term confidence. The result was satisfactory

". I always notice words like "satisfactory" when uttered by a politician.

Tremonti also said that energy firms in Italy will "

no longer be paying a tax on polluting emissions

", adding that "

no replacement taxes will be introduced

". That just after being censured by the EU for breaching EU environment laws too. Tremonti then went on to say that he considered there are "

objective elements of recovery

" in our economy, adding that yesterday's figures from Istat were "fairly good". Fairly good? There must be another reason for Berlusconi to have said later in Rome that Istat's figures do not "

represent the real Italian economic situation

", going on to make it worse by saying - "

I don't know what we can say to make it understood that the economy is not going so badly, above all that the GDP figures are not credible

".


That must be the reason why Tremonti announced a decree had been passed by the government containing amendments to public spending measures that "

is made up of three articles, the first one laying down the cuts agreed on

" whereby public spending is going to be cut by 30% "

except in sectors like security and investments

". Perhaps he and Silvio hadn't had their little chat before Silvio spoke up? But then again, Silvio needs to blame something for the erosion of the financial position that Italy is now in. The words "Euro", "EMU" and "Prodi" all come instantly to mind as probable excuses that will be used before April.


Finally, an item in La Repubblica claims that Italy's antitrust authority is questioning Mediaset's various nine-year contracts with leading football clubs for the rights to show games on the Mediaset digital TV service. Not, of course, that Silvio has anything whatsoever to do with Mediaset now - it is merely his family that controls it nowadays. This action is seen as going against government subsidies to promote sales of digital TV set top boxes. Yes, the government actually subsidises digital TV services. Funny that. It is almost as though the Prime Minister had a hand in it.
The Boys